The North West coast is a hidden jewel that so many visitors tend to overlook in favour of staying in the South of the UK. London and Cornwall are beautiful spots, however, there are regions that are unfairly left ignored! The less well- trodden parts of England can offer a more authentic British holiday. The northern counties offer a broad range of landscapes and attractions. From picturesque lakes to exciting urban cities, you'll want to visit it all. It's a great destination for families on account of the welcoming Northern locals and fantastic tourist spots. Affordable accommodation makes the North West even more appealing for your family holiday.
The region is split into five counties: Cheshire, Cumbria, Lancashire, Merseyside and Manchester. Though closely bordering each other, each region offers a unique holiday or short break for families. So if you've already done London and want to check out what else England has to offer, the North West should be next on your list!
Merseyside – Liverpool
Brimming with musical and maritime culture, Liverpool is also home to two Premiership football teams. Soccer fans should try to visit an authentic English football match; it's an experience! The city itself is an extremely friendly and welcoming destination for families. Kids will love riding on the Yellow Duckmarine. Duck Tours provide a comprehensive city bus tour which concludes with splashing into the docks of the Mersey! For a more refined afternoon activity, visit the Tate Modern Art Gallery. It's free entry for all with stunning harbourside views. The Albert Dock itself is perfect for relaxing family strolls. Obviously, Beatles fans will want to check out the iconic Cavern Club, which is still a proud jewel of Liverpool's music scene. Liverpool also features it's very own city Museum. Filled with exciting interactive features for kids, it's an ideal indoor destination for rainy days. Famous street artist Banksy has also put his own tag on Liverpool. The 'Rat' mural was painted onto a derelict pub building in 2004 but has recently been restored and returned to the city. Keep your eyes peeled!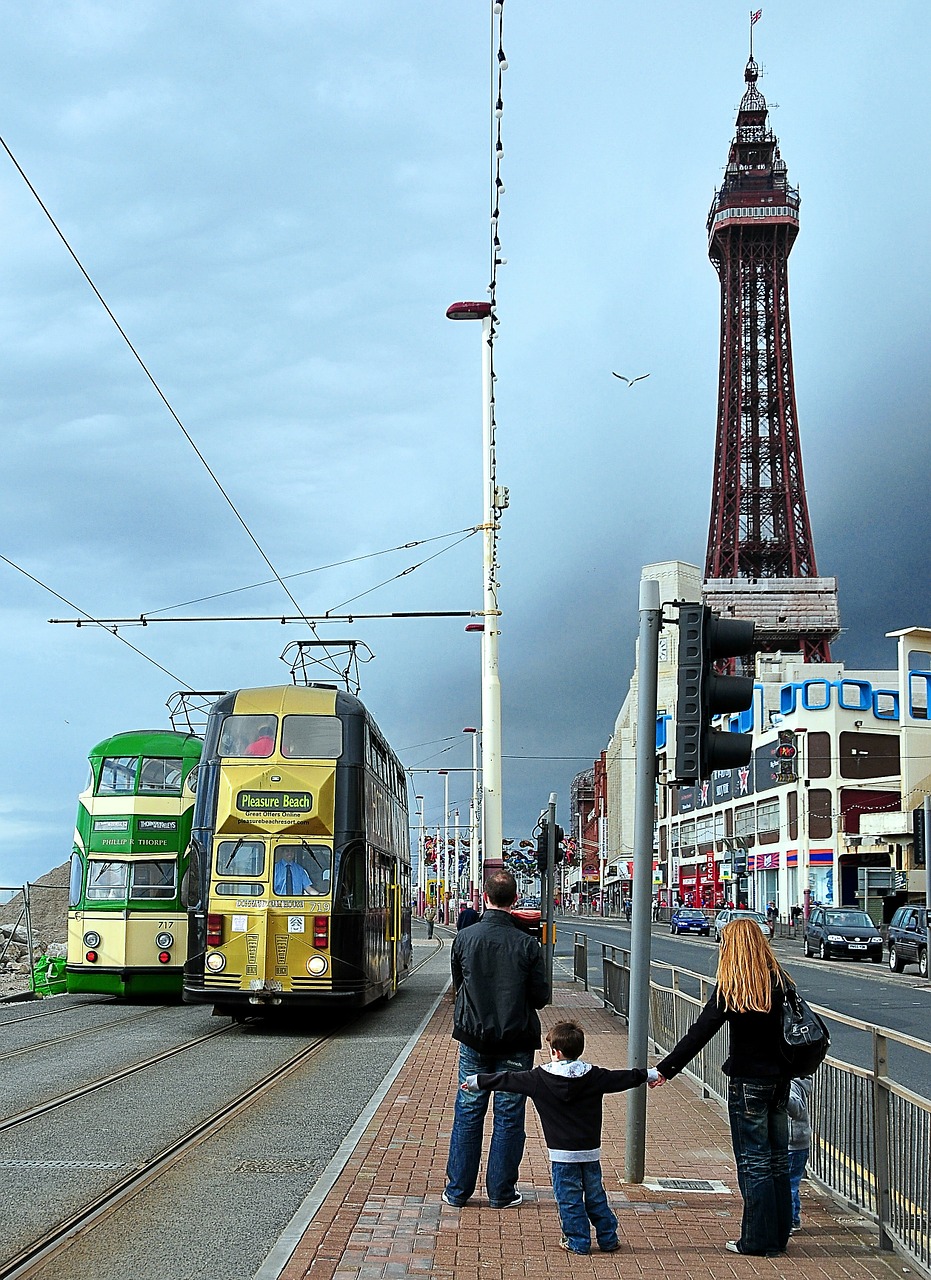 Lancashire
Boasting many a popular beachside resort, get ready to dip your toes in the sea on the Lancashire coastline. Grab a bag of fish and chips to enjoy on the beach for an authentic British experience! But are you brave enough to ride on the UK's tallest and fastest roller coaster? Lancashire is also home to the infamous amusement park. Blackpool Pleasure Beach will provide a whole day's worth of entertainment for families. For indoor water park fun, the award-winning Sandcastle Waterpark provides exotic climates by the sea. It's the UK's largest indoor water attraction with 18 splashing slides. Parents can also take a break in the spa which features heated loungers and foot spas.
Seaside fun aside, Lancashire also features two Areas of Outstanding Natural Beauty including the gorgeous Pendle Hills. Activity lovers can take advantage of the family friendly cycle trails. Hiring a bicycle is an inexpensive way to enjoy the gorgeous scenery your own way.
Manchester
The second largest city in the UK to London, Manchester is bursting with character and culture. It's a cosmopolitan break that is also perfect for families with children of all ages. The city is home to Manchester United Football Club. A stadium tour is a great day out for the family. Even non-soccer fans will appreciate the beauty of Old Trafford stadium. Indulging in some British retail therapy at the Arndale Centre is a great treat for serious shoppers. For a taste of the city, the vibrant Northern Quarter is the place to go for independent eateries and bars. Walking tours are perfect for gaining an insider's view to the vibrant city on a budget, covering such landmarks as the canal network and the set of popular UK soap, Coronation Street. If you loved the London Underground, jump aboard the Metrolink Tram to get around the city in style. You'll get to rub shoulders with the friendly Northern locals who are famously always up for a chat!
Cheshire
Cheshire provides an interesting mix of classic architecture and modern visitor attractions. For a wild family day out, visit Chester Zoo, featuring over 12,500 wonderful animals and 400 different species. Winning Best Newcomer to the Tourism Industry Award Winner 2015, The Lion Saltworks is a heritage attraction not to be missed. Another popular tourist attraction to make a splash is the National Waterways museum. Enjoy flotillas of historic boats and Victorian houses with fascinating displays. You could even take a ride on a traditional narrowboat on one of the UK's famous canals. For a more peaceful family day out, take a stroll amongst the flowers at Ness Botanic Gardens. The traditional gardens were established in the 1800's and show off quintessential British landscaping at its finest. The grounds also boast 4 hectares of wild-flower meadows and Wildlife projects with over 600 species of insects, mammals, and birds.
Cumbria
Cumbria is home to the Lake District. As the name suggests, the country boasts an impressive landscape of rugged mountains and spectacular lakes. The National park makes a perfect choice of walking families, with 26 miles of coastline and estuaries to take in. Stretching right up to the fringes of the Scottish borders, you could even pop across the border for a flavor of Scotland before heading home. "Glamping" (glamorous camping) is a popular way to get outdoors in the UK, and Cumbria is a great location to try out a woodland yurt or eco camping pod. For a cultural day out, take a ride on a traditional steam engine on one of the restored railway routes. The South Tynedale Railway offers stunning views of the Tyne Valley from the highest narrow gauge railway in England. If you want to slow down and take in the views, step aboard one of the 19th-century steamer boats at Ullswater. To get the ultimate tourist snapshot, head down to the award-winning St Anne's Beach Huts. The luxury pastel structures have recently been re-opened and are available for hire. Rounding off your Cumbria break in one of the huts would be the ultimate seaside treat.