The dazzling city with tallest skyscrapers reaching the clouds above, to the lowest underpasses and amazing theme parks, Orlando it is! Me and Alex were so excited to explore "The theme park capital of the World", as it is named. Undoubtedly beautiful! Universe, astronauts, reaching moon, space shuttles and the space technology involved in all of these has always amazed me and has been a subject of my deep interest. So how can I miss a chance of visiting the Kennedy Space Center.
And I was so sure it is going to be an extraordinary experience for me and my little kid. Less then an hour east of Orlando, Kennedy Space Center provides a mixture of past and the future, with historical references and clear vision into the future. The complex offered us opportunity to meet astronauts, tour a full-size replica of Atlantis space shuttle and watch stirring films in IMAX theatre.
The place that made Alex go gaga over was the covered Children's Play Dome, where he was fascinated by the rocket parts and pieces. And there is this Mercury, Gemini and Apollo capsule replicas where children climb up and feel like they are on the top of the world. I felt the complex offers attraction for all age groups. There are places like IMAX where the entire family can enjoy the movies. We grabbed our 3D glasses and were prepared to be amazed. Alex got so exhilerated that it was evident in his eyes. And as the movie commenced, both of us were thrilled. Alex was stunned after taking a motion simulator ride, a Shuttle Launch Experience! Looking at his excitement, I started to wonder what if he grows up to become an astronaut. Just mere thoughts, triggered my brains.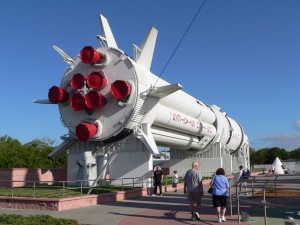 I will always want him to endeavour in the field that interests him the most. This escape from the dreary routines, was indeed an experience of a lifetime. Alex is too young to understand the intricacies of this outside world and the techology involved in exploring that world but I look forward on visiting this place someday again with him because you never know what will strike you the most untill and unless you stop exploring different fields and stick to one for the entire life, like I am, to Information technology!
I want Alex to explore possible fields and find out what interests him the most, only then he can endeavour in one of them.