Fotor.com is a life saver. I was very busy on the other side of town doing some work for my small but efficient freelancing business. Than all of sudden I forgot to get a New Years Eve Holiday card, for the, most important person in my life. my little man, Alex. For this reason I absolutely love this mobile app. I am able to send a card or greeting for free with any-kind of holiday or other celebration. To the people you love instantly. To more than just one site, you can send it to their Instagram instantly on their phone. You can also slip into those DM's (Is that how the kid' saying it nowadays?) By sending the holiday greeting straight onto their Instagram account with one of the Holiday templates.
How it works: Fotor.com is a fast and powerful online photo editing and suite. The collage and editor functions can be used by anyone. But really the only limitations design wise on the site is your imagination. My son Alex and I, personally loved the Collage Gyroscope fall leaves combination this past Thanksgiving collage.
Essentially you can take a photo from either your device, Iphone, Samsung Galaxy, Ipad, Android based tablets. Desktop. Create beautiful collages and send to love ones through their mobile send function. My son's favorite feature is definitely the collage feature on the website.
It will give you several different templates that you can use, to break up the collected data of your photo features. Breaking either multiple photos or one photo into multiple of parts. With several unique templates as well that can make collage go from basic to extraordinary or holiday themed in an instant.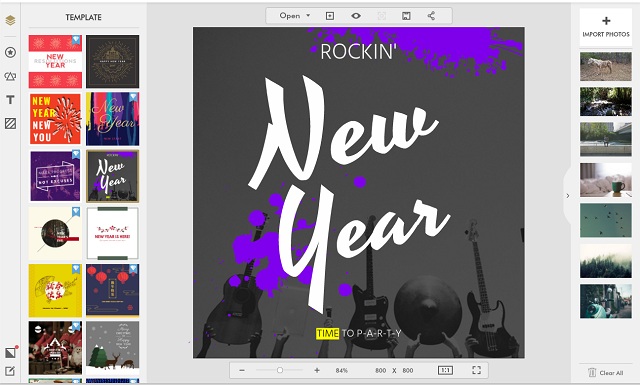 What I love about Fotor.com: I personally love to use the editing software that is both on the FOTOR.com site but also on the mobile app when I am on the run. I love having total control over how to breakdown my family photos. To make them look 100 percent perfect even though they may have had a lighting issue. I remember taking a photo of my son that was a bit overexposed because of the sun was in the way. It was the perfect photo. But the light hit the camera lens and I had a sunspot in my photo. The editing photo software through Fotor.com was so efficient I was able to remove the spot form my phone and I was able to crop the photo perfectly. The great thing is with this software. I am able to print off so many fantastic photos from home saving hundreds than going through that difficult process through a picture developer from Sam's club or Kodak shops.
What Alex loves about Fotor.com: With the plain normal headers that you get from Facebook.com, you can't really show any kind of personality. But what my son showed me was amazing. Alex showed me that you can spruce up your Facebook cover, and Facebook cover photo's, as well as an Instagram template. They have plenty of pre-made Facebook covers. But there is also the option of making your own specially made Facebook cover as well. My son's one is truly spectacular.
Which give me more time to spend time with my handsome little man and or knew found hobby! Making collages and editing our photos together. No more scissors; No more glue and sparkles. Just Mommy and son putting together our collages together online through the Amazing site. Fotor.com
Save