"If I were to make one of those, do you think people will put it here too?" Alex asked me as we were going through the paintings at the Denver Art Museum. It's not even about the exciting thought of what he could be when he grows up, but just the impression that even at this early age he's open to all the possibilities. The museum was a sight to behold, bragging not only of its history and the art that it featured, but even the building itself is somewhat of an architectural feat to take pride in. We can thank Daniel Libeskind for giving us this wonderful gift for people to enjoy.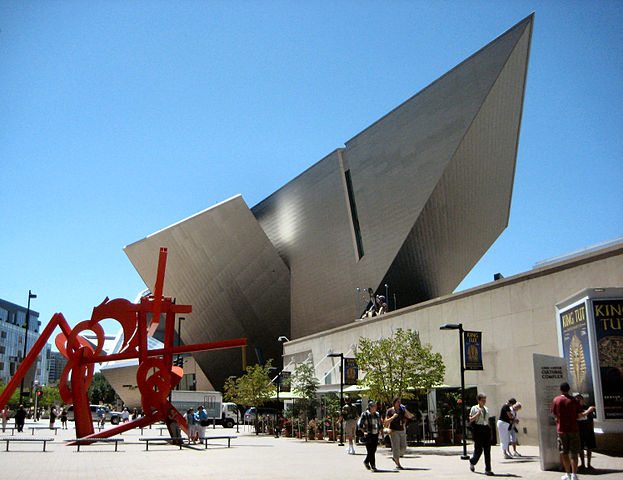 After absorbing all the history and art from the museum we then got to the hang around outside the states capitol building. It was a pleasant experience, even though there lots of buildings as far as the eye could see this part was a pretty sight. It had a huge garden of different flowers arranged in patterns of differing colors. My son was very amused seeing how organized it was. Then we headed back to the Hotel for a short nap and a much needed dip in the pool. I like to consider myself pretty invincible, but sometimes with child in tow,, I am finding that I get wore out quicker than I would like to admit. We had set ourselves up in a luxury hotel in a gorgeous part of Denver . I even received a few perks, and a discount,, Thanks to the blog. 😉
Next up was the botanic gardens. A vast collection of flowers and plants with complimenting statues, as well as some interesting events, go check out their website to see what is in store for you when you arrive. We definitely enjoyed it and it even trumped the gardens outside the capitol with its elegance.
Being a big city doesn't always mean just great architecture and gardens that defy our average expectations. Denver is blessed with their own Natural Wildlife Refuge, just outside of the city. We had a great time checking out the Wildlife that contained more than 280 native plants and 330 animal species, including mule deer, coyotes, bison, songbirds, burrowing owls and bald eagles. The look on my son's face was the intriguing part for me. Putting his hand to the direction of the bison, desperately trying to touch one, but when a little bison went near us, he almost cried. A young and playful mind is always an amusement for me, and my son just takes the cake. A bit after our short bison watching experience, we had a few scoops of ice cream. Nothing beats fear of bison than the touch of double choco delight on your tongue.
But it was the night life at Denver that highlighted our experience. The lights were amazing, there were lots of people and even more places to eat. The customer service is also worth talking about. Alex and I felt like VIPs just by going to a simple dining place. My son is fond of these cute little straws, and one of the clerks even went out of his way to buy Alex a neat little umbrella straw from a nearby store. The smile on my son's face was simply priceless. I felt obliged to tip the guy at least 10 bucks for what he did. He accepted it only after giving us even more attention and we felt like royalty.
All in all Denver is a great place to escape to. From the wildlife, to art, and the nightlife it offers. This city is jam packed with so many things to do that I can't get myself to recall all our wonderful memories in one short article. Maybe I'll make another one soon, but if anything's certain, it's that we will be back at some point in time.